We are providing you the links of the various forecast models and images of the Tropical Storm Basyang from the different weather agencies/sites. This will be updated from time to time.
Severe Weather Bulletin Number Seven - A
Tropical Cyclone Warning: Tropical Storm "Basyang" (Kajiki)
(7AM, 01Feb2014)

"BASYANG" is now over Sulu sea moving towards Northern Palawan.

Location of eye/center: At 6:00 AM today, the center of Tropical Storm "BASYANG" was estimated based on all available data at 82 km West of Iloilo City or at 353 km Northeast of Puerto Princesa City (10.7°N, 121.8°E).

Strength: Maximum sustained winds of 65 kph near the center and gustiness of up to 80 kph.

Movement: Forecast to move West at 39 kph

Forecast Positions: Tropical Storm "BASYANG" is expected to be at 574 km Northwest of Puerto Princesa City by tomorrow morning or outside the PAR.

PUBLIC STORM WARNING SIGNAL #2 (Winds of 61-100 kph is expected in atleast 24 hours) - Palawan incl. Calamian Group of Islands, Guimaras, Aklan, Capiz, Antique and Iloilo

PUBLIC STORM WARNING SIGNAL #1(Winds of 30-60 kph is expected within the next 36 hours) - Romblon, Southern part of Occidental Mindoro, Southern part Oriental Mindoro, Negros Oriental, Negros Occidental and Cebu

• Public storm warning signals elsewhere are now lowered.
• Residents living in low lying and mountainous areas under public storm warning signal #2 and #1 are alerted against possible flashfloods and landslides. Likewise, those living in coastal areas under signal #2 are alerted against storm surges.
• Estimated rainfall amount is from 5 – 15 mm per hour (moderate - heavy) within the 400 km diameter of the Tropical Storm.
• Tropical storm "Basyang" is expected to cross Northern Palawan and will exit to the West Philippine Sea.
• Fishing boats and other small seacrafts are advised not to venture out into the eastern seaboard of Central Luzon, eastern seaboard and southern seaboards of Southern Luzon and eastern seaboard of Visayas due to the surge of Northeast Monsoon.
• The public and local DRRMCs concerned are advised to take appropriate actions and watch for the next bulletin to be issued at 11 AM today.
PAGASA Forecast Track
PAGASA Satellite Image
Japan Meteorological Agency (JMA)
US Joint Typhoon Warning Center (JTWC)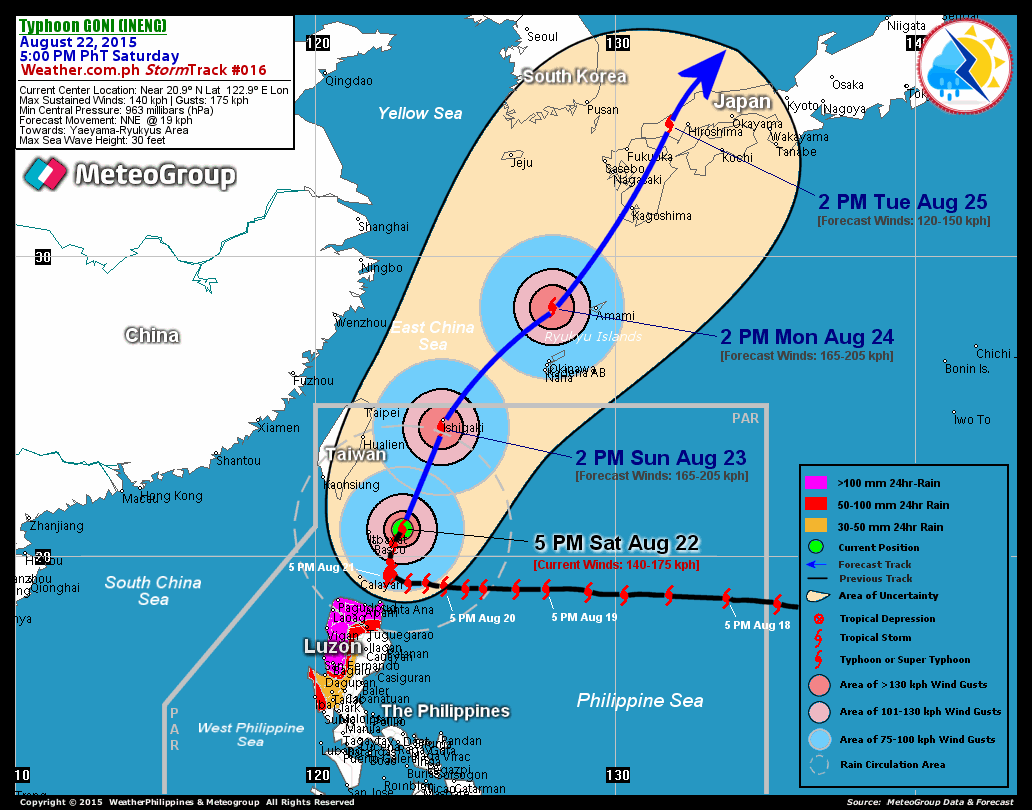 weather.com.ph/typhoon2000.ph
NOAA Satellite Image
MTSAT/NOAA
US Joint Typhoon Warning Center (JTWC) Satellite Image